SYNTHETIC OPAL
Opal, Queen of Gems

"Opal" [We sell Synthetic Opal] originates from the Latin word "Opalus", meaning to gather the essence of every gem into one. [Synthetic Opal by Sanwa] The ancient Romans called opal the "Queen of Gems" because it encompasses the colors of all the other gems. To ancient Romans, opal symbolizes hope and purity. It is a gift granted by the heaven in bolts of lightning and unfolds the "Nature's fireworks" before one's eyes. The "Nature's fireworks" is the charm of opal as there is shimmering prism that appears in the stone in a variety of colors. This is the unique distinction of opal - fanciful play-of-color.

There are many products called opal, but why they would not look the same?
Opal is an amorphous form of silica related to quartz, a mineraloid form, not a mineral. However, there is opal with or without color effect. Only opal with color dynamicity could be classified as precious gemstone and they are called "Precious Opal". High-quality precious opal would have bright rainbow-like colors and while rotating; there will be various of magical brilliance and gorgeous color, with attractive color changes.

Among the opal categories, most of them are general opal, only a very small percentage of them are precious opal. Opal has various colors, such as black, grey, white, brown, pink, orange, yellow, green, blue & transparent, etc . In the jewelry industry, as general opal is in milky white and without any color change effects, its commercial value is not high and could not be classified as precious gemstone.

Non-natural opal
Non-natural opal generally divided into two categories, one is sintered with glass and only with translucent milky color and do not have any various color effects, they are collectively referred to as artificial opal. The other category is impregnated in laboratory and exhibiting color change, they are referred to as synthetic opal.

Synthetic Opal
Synthetic opal (GIA: Polymer Impregnated synthetic opal) is impregnated in laboratory in around a year and has similar properties as that of natural opal. The main difference with natural opal is that the naturally occurring process has been sped up in the laboratory. Our synthetic opal is a beautiful opal with a perfect color dynamicity - revealed the beauty of Precious Opal.


Table1: Comparison of Chemical Composition:
| | | |
| --- | --- | --- |
| | Synthetic Opal ( with resin) | Natural Opal |
| Elements | SiO2 (silica) +Resin | SiO2.nH2O |
| Hardness | 4 | 3-5.5 |
| Specific Gravity | 1.80-1.90 | 1.98-2.20 |
| Heat Resistance | 130 degree C. | 100 degree C. |
From the above table, the composition of synthetic and natural opal is very similar and the heat resistance and hardness of synthetic opal is more stable.
Table2: Characteristic of Synthetic Opal
| | |
| --- | --- |
| Resin is impregnated | Hard to break, hard to chip |
| Less internal inclusion and crack | Plentiful color variation |
Besides the white opal colors, all the other colors are created by a special coloring technology. Moreover the resin stabilized techniques help in manufacturing more durable opal, as the product will be far less brittle than natural opal.

"The potential of synthetic opal"

As we have mentioned before, only a very small percentage of opal in the world could be classified as precious opal, opal with beautiful color variety. The scarcity of precious opal and its expensive price has limited its development prospects, despite a certain historical value, opal are still not mainstream gems.

Yet, synthetic opal has offset the deficiency of natural opal, and further demonstrates the beautiful color change in different forms. A richer color pattern and the diverse cutting features of synthetic opal also highlight it with wide range of creative design possibility, allows innovative jewelry designer to use it to their unlimited imagination, manipulating its rich color patterns.

In conclusion, synthetic opal has better conditions than natural opal to meet market demand and have a sustainable development prospect. Thus, it is an excellent alternative to natural opal. On the other hand, in order to champion the fashion trend, synthetic opal will be accounted for a major player in the mainstream of fashion jewelry. Its popularity and commercial value have made it a favorable choice for fashion designer.
Revolutionary product for fashion jewelry industry
Synthetic opal is an astonishing choice for fashion jewelry. When the market is overflowing with CZ & crystal products, synthetic opal undoubtedly gives designers another special option. The beautiful "Play of colors" has provided more characterized products in this increasingly maturing jewelry market. In addition, the acquisition cost of natural opal continues to increase, investors and buyers often have to bear the investment and quality risks. Therefore, synthetic opal which has a comparatively lower price, higher quality, and more diversified cutting will be a breakthrough discovery of the jewelry industry.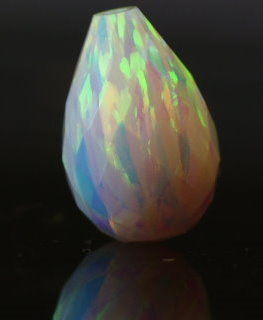 "Play of Colors" will be a new highlight
There is always a never-ending quest of gemstone sparkles. Emergence of a variety of synthetic stones has further realized everyone's pursuit of beauty. Therefore, with the unique "Play of color" effect which is highly differentiated from CZ and crystal glass, synthetic opal would become another new upstart in the fashion jewelry trend.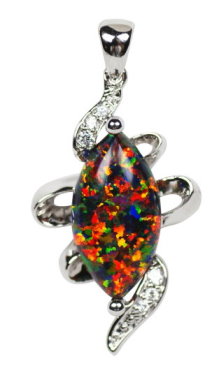 Copyright

©

2011 SANWA All rights reserved.